Cloud Service Products
We offer cloud services solutions, tailored to your business needs. You can be sure your data will be stored and secured in our cloud in case of a disaster or failure.
NOT ANOTHER CLOUD VENDOR, WE ARE YOUR TRUSTED CLOUD PARTNER
South Seas Data is here to show your company how our Private Cloud and Managed Cloud Services can directly benefit your business.  We help design and implement cost-effective solutions that lower your IT Costs and free your IT department up to innovate and work on new projects.  Don't have an IT department?  We can directly manage and support your environment for you.
Centrally locate your core business services at our Tier 3 Gold Data Center
Added security, availability, and redundancy for your business and users
24/7/365 Monitoring & Support
99.9999% Uptime
MANAGED CLOUD SERVICES 
South Seas Data's private cloud is in a Tier3 Data Center with virtually zero downtime.  Have the comfort of knowing our Cloud Engineers are monitoring and managing your companies infrastructure for you, allowing your internal IT group to focus on new projects and initiatives.
MANAGED SECURITY
We can help you meet HIPAA and FERPA compliance as well as manage the security of your servers and workstations.  We can centrally install, configure, and manage our security solutions from our NOC and keep your servers and workstations safe from attacks.
NOC MONITORING
We have a fully staffed internal NOC that monitors our customers' environments and alerts them to any anomalies or outages.  We support and resolve issues directly from our NOC in a timely manner that keeps your employees up and running.  Servers, workstations, and entire IT environments can be managed from our NOC.
MANAGED OFF-SITE BACKUP
With a proper off-site backup in place, you don't have to worry about losing your companies critical data.  Our backup is Enterprise level backup at Small Business prices, with the support you simply can't find with other online backup services.  Need your data restored and need it right away?  We don't throttle our customers' speed – your data is restored quickly and efficiently. 
MANAGED DISASTER RECOVERY 
We can help you design and manage a Disaster Recovery Plan that will efficiently and effectively keep your business running after a disaster.  Don't let a flood or major outage take down your business.  We can keep you up and running and keep your data secure and ready for restore, with backup restore for dissimilar hardware.
 In a conventional, hardware environment, new software can often times lead to costly hardware upgrades.  In our DaaS solution, existing client hardware remains the same, saving expenses and time spent upgrading hardware.
 With South Seas Data DaaS, you can be sure that your data will be stored and secured in our cloud in the event of a disaster or hardware failure.  Our solution offers Business Continuity Solutions by providing your employees with access to their desktops and applications in the event of a disaster or outage.
Access Linux and Microsoft based operating systems on multiple devices without the need of accruing new hardware.  Always have the latest and greatest operating systems and software without the need to upgrade your existing hardware.
One of the easiest ways to get into the cloud, and one of the most essential uses of cloud infrastructure in general is disaster recovery. This can be a low-cost method that will give you peace of mind and keep your business technology afloat if you experience an outage. 
WHAT GOOD IS YOUR BACKED UP DATA IF YOU CAN'T USE IT WHEN YOU NEED TO?
Getting IT services back up and running after a disaster is often determined by how fast new hardware can be sourced, and then how fast the backup restoration processes work. When individual servers are involved this can be a complex process. Creating virtual images as a disaster recovery policy, either from physical machines or from existing virtual hosts will speed up the restoration process.
We offer custom DRaaS solutions for our Denver based clients via our Cloud Infrastructure.  Get in touch with us today and let us start crafting your Disaster Recovery Solution!
COLOCATION SERVICES
Want to remove the burden of housing your data center in your office? Why not house your equipment in a Tier III Gold data center and let South Seas Data manage the hardware for you? You provide your servers, switches, and storage, and South Seas Data provides you with the space, cooling, power, bandwidth, and security to keep your most critical systems running.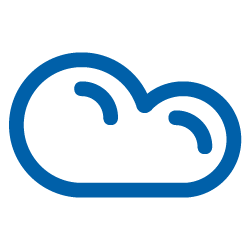 Where is the South Seas Data Cloud? 
Our cloud solution is housed at a Tier III data center in downtown Denver. A Tier III center means it is a self-sufficient facility and virtually disaster proof – redundant internet providers, backup power generators and built to be flood, fire and earthquake proof. Our Cloud Data Center is located in a facility with over 14 years of continuous critical systems uptime.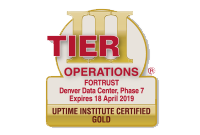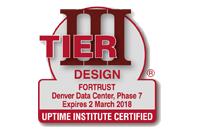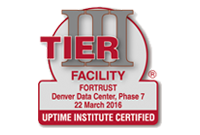 FORTRUST is one of the most progressive high-availability data center services providers in North America, serving clients across the globe who depend on colocation services for the critical lifeline of their business. FORTRUST was awarded a Tier III Gold Certification of Operational Sustainability and a Tier III Certification of Constructed Facility by Uptime Institute. FORTRUST Denver is the largest colocation data center in the region. FORTRUST offers agile, reliable, sustainable and secure raised floor and modular data center capacity for any-size enterprise supported by optimal power infrastructure and connectivity to safeguard mission-critical business services. www.FTDC.com