Desktops as a Service - Hosted Virtual Desktops
We provide cost-effective Windows and Linux desktops to users via local computers, thin clients or BYOD.
South Seas Data Cloud – Tier 3 Data Center – Constant Availability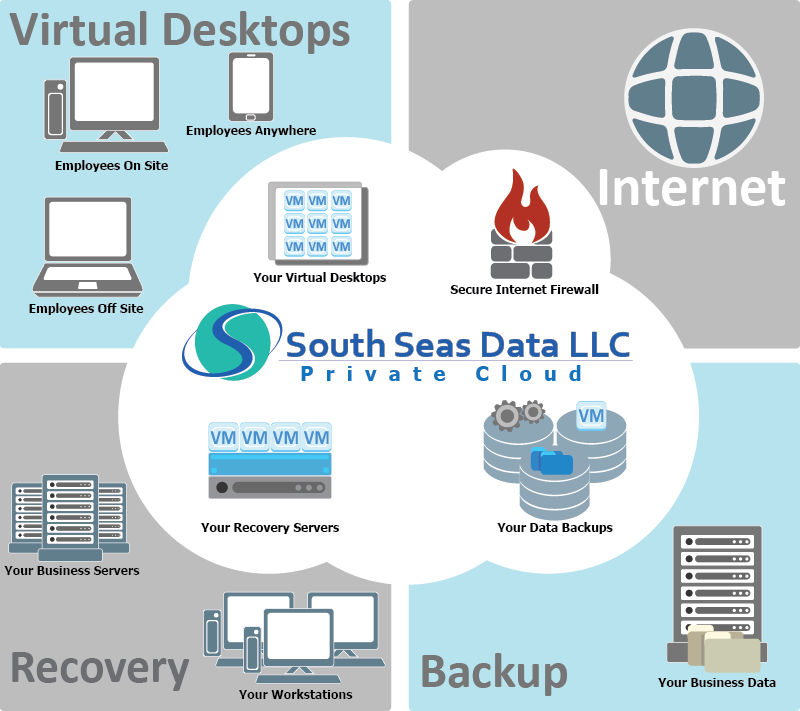 DESKTOP AS A SERVICE – VDI – HOSTED VIRTUAL DESKTOPS
South Seas Data (DaaS) Desktop as a Service is a cost-effective way of providing Windows and Linux desktops to users via local computers, thin clients, or BYOD. South Seas Data DaaS provides IT with centralized desktop control and security, centralized data control and security, and centralized backup and disaster recovery for those virtual PCs, all while eliminating the capital expense of on premise VDI or traditional desktop environments. 
 In a conventional, hardware environment, new software can often times lead to costly hardware upgrades.  In our DaaS solution, existing client hardware remains the same, saving expenses and time spent upgrading hardware.
 With South Seas Data DaaS, you can be sure that your data will be stored and secured in our cloud in the event of a disaster or hardware failure.  Our solution offers Business Continuity Solutions by providing your employees with access to their desktops and applications in the event of a disaster or outage, while providing daily snapshots and backups of your data.
Access Linux and Microsoft based operating systems on multiple devices without the need of accruing new hardware.  Always have the latest and greatest operating systems and software without the need to upgrade your existing hardware.