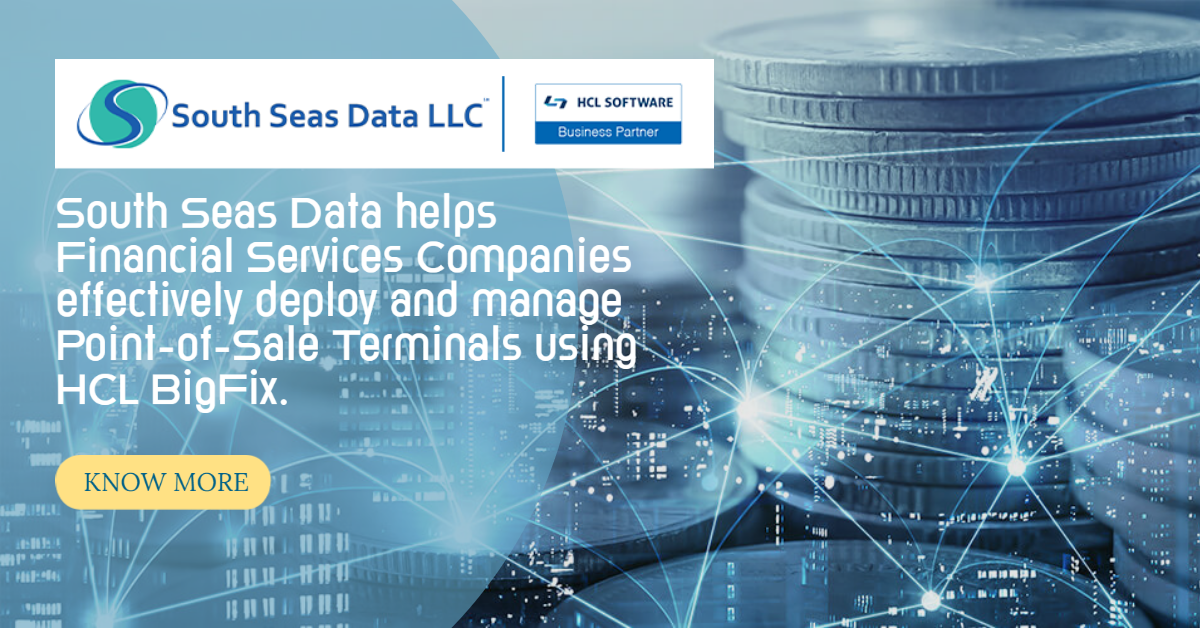 Blog post
Recently, South Seas Data, HCL Software business partner, have collaborated to produce an informative blog post about how South Seas Data has helped their customers using HCL BigFix.
Challenge:
A fortune 500 company in the Financial Services vertical was challenged to address deploying and maintaining new Point of Sale (POS) terminals in North America and updating them as new business requirements arise. Since these terminals are internet-facing devices and not connected to SSD's network, traditional IT methodologies were impossible to use. Secondarily, South Seas Data needed to ensure the terminals were PCI compliant to meet regulatory requirements and avoid non-compliance fines.
Solution:
South Seas Data replaced the company's existing solution with BigFix Lifecycle to manage the POS terminal hardware and software and maintain PCI compliance.
Results:
South Seas Data successfully deployed their new POS terminals in hundreds of locations across North America and demonstrated PCI compliance to regulatory agencies. In doing so, BigFix also helped the company be more agile as new business needs and requirements arose, directly impacting the customer's ability to utilize new services and features and would not otherwise be possible. By choosing and deploying BigFix, the company invested in an endpoint management solution that meets their current and future needs.
Transformation Story:
Utilizing the BigFix technology, South Seas Data successfully deployed the new POS terminals, addressing the need for maintaining and deploying new requirements in the North America region and keeping terminals PCI compliant.
Next Steps:
The company looks to South Seas Data to manage all POS terminals on their behalf. By doing so, the company anticipates lowering operating costs while keeping the hardware and software maintained and up-to-date.